Jared had drill last weekend which means, I like to go to church with my Mom. It's better to not be alone. Especially with my wild child. Just for kicks, I put Libby in a dress that used to be mine. My Mom saved quite of few "classics" for the grand babies. When we got to my Mom's ward she couldn't remember if the dress was actually
mine
or another sisters. Later that evening we were watching a rerun of Toddlers & Tiaras (Have you ever seen that show? It's insanity!!!) when it hit her!!
"That was your dress! And I'm pretty sure you wore it in your first, and only, pageant!!"
Excuse me?? We were cracking up trying to picture chubby me in a pageant. She then stated she was off to find the picture proof and that if she could find it right away we would have to crown her the "Grand Supreme" pageant winner. Sure enough, she had multiple pics within minutes. (My Mom is
the most
organized person there is. Ever.)
Here we are. November 1985. I'm 15 months old, first baby on the left. With my organized Mom.
She said when we walked in, one of the pageant ladies commented on how they usually like the dresses to be "fuller". We weren't quite pageant pros I guess.
Also, notice the Cabbage Patch dolls as prizes. A very coveted item when I was a yiddle girl.
Me and my Mama. I love how we're dressed similar. I think I'll start doing that with me and Libbs.
My Mom can't quite remember what "title" I won but, thinks it was something like "best smile."
If cutest cankles were a category, I surely would've taken that trophy home instead.
You may also be wondering how that crown is staying on with no hair?? I wonder that too.
Here's my little baby in that same dress. I know her pony is silly, okay? We were having a silly kinda day. She doesn't usually have that. Can you believe the great condition that 26 year old dress is in? Especially considering that the 3 sisters younger than myself all wore it too. Not only is my Mom the master organizer but, she's also been nicknamed the "Laundry Queen". She's extremely particular and has mastered all things laundry. So all her clothing, no matter when it was purchased, looks this good.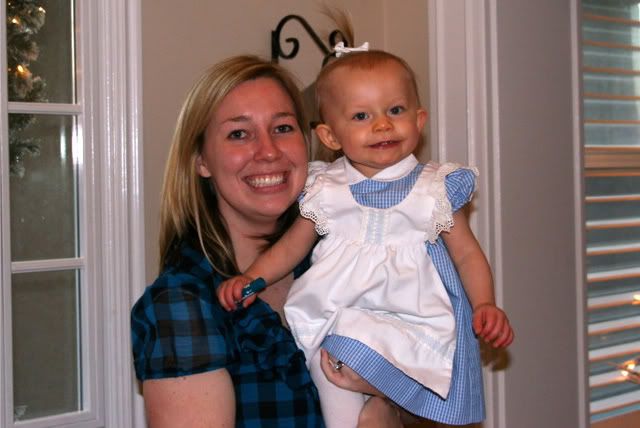 Me and my baby. Love that cheesy grin.
(If only her daddy would let us do just one pageant...sigh.)